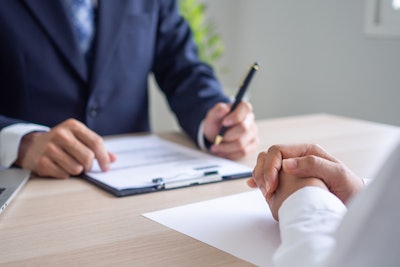 The State of Washington Department of Health Dental Quality Assurance Commission suspended on November 1 the license of a dentist after a patient reportedly died while undergoing tooth extractions before a scheduled heart valve surgery.
Dr. Thi D. Nguyen of Gravelly Lake Dentistry in Lakewood, WA, was suspended pending further legal action for allegedly failing to accurately assess a patient's risk level, not properly monitor the patient during the procedure, and not providing enough medication to reverse the effects of sedatives administered. Also, his moderation sedation permit was suspended, according to the state's summary order.
Nguyen cannot practice within the state until the charges are resolved, and he has 30 days to respond, according to the summary order.
"The finding of facts establish the existence of an immediate threat to the public health and safety if respondent as an unrestricted credential and moderate sedation with parenteral agents permit," according to the order.
In June 2022, a patient with a significant medical history who was taking several prescription medications went to Nguyen to undergo multiple tooth extractions under moderate sedation prior to heart valve surgery. The patient had hypertensive cardiovascular disease, congestive heart failure, valvular heart disease, pulmonary emphysema, chronic disease, diabetes, and obesity, according to the statement of charges.
Prior to the procedure, the dentist received medical clearance from the patient's primary care provider, a physician's assistant, but Nguyen reportedly did not consult with any of his physicians.
On the day of the procedure, the patient was given articaine, lidocaine, triazolam, midazolam, cefazolin, and decadron.
About five minutes into the procedure, the patient's vital signs dropped. The dentist allegedly failed to monitor his vital signs at appropriate levels required by law and then reportedly failed to administer the proper dose of medication needed to reverse the sedatives he was given, according to the state's documents.
Eventually, emergency medical services were called. Resuscitation was attempted for 40 minutes, but the patient couldn't be saved, according to the statement of charges. The state called Nguyen's treatment of the patient "negligent, incompetent, and/or failed to meet the standard of care," according to the statement.