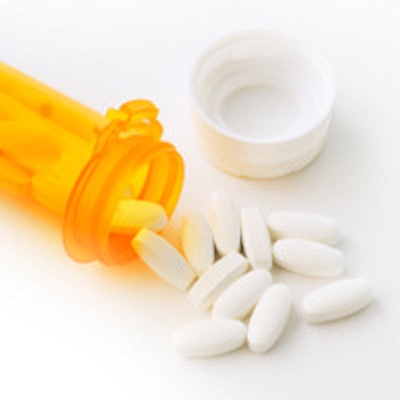 About 1 in 4 patients misuse opioids prescribed for chronic pain, according to a new systematic review. Dentists are in a prime position to help prevent such prescription drug abuse by educating patients about drug misuse.
The review, which is published in the journal Pain, found that the rate of misuse for prescribed opioids to treat chronic pain is around 25% and the rate of opioid addiction is around 10%. With such a high rate of prescribed drugs misuse, the researchers questioned whether the widespread use of opioids for pain management is worth the risk (Pain, April 2015, Vol. 156:4, pp. 569-576).
"The efficacy of opioids and their suitability for the long-term management of chronic pain still remains very much in question."
— Kevin Vowles, PhD
"The efficacy of opioids and their suitability for the long-term management of chronic pain still remain very much in question," the study authors wrote. "While this uncertainty in effectiveness is well-established, it stands in somewhat stark contrast to the clinical reality of chronic pain treatment, where rates of prescriptions have skyrocketed such that opioids are now among the most frequently prescribed medications."
While the opioid epidemic is a multifaceted problem, dentists have a prime opportunity to help patients understand the risks and benefits of prescription pain relievers, because they write 12% of prescriptions for immediate-release opioids in the U.S., according to a 2011 study published in the Journal of the American Dental Association (July 2011, Vol. 142:7, pp. 800-810). The only professionals who prescribe more opioids than dentists are family physicians.
Opioid misuse is a cultural problem
Lead author of the Pain study Kevin Vowles, PhD, and colleagues set out to produce an updated and expanded estimate of the opioid misuse problem by evaluating more than 350 studies for rates of opioid misuse and addiction. The final report included 38 studies after the researchers excluded studies for a lack of data and other reasons.
For the purpose of their review, the researchers defined misuse as using opioids contrary to instructions, regardless of harmful or adverse effects. This includes using less medication than prescribed or taking the medication for a purpose other than for what it was prescribed.
Vowles and colleagues found that the surveyed studies' findings widely varied, with rates of misuse ranging from less than 1% to more than 80%. They found the definitions of misuse, abuse, and addiction differed from study to study.
Once the researchers adjusted for the average rate of misuse in their final analysis, they concluded that the estimated rate of opioid misuse is 21% to 29%, and opioid addiction is estimated at 8% to 12%.
The topic of opioid misuse is particularly important, because healthcare providers are prescribing these pain-relieving drugs more than ever before. Between 1996 and 2011, the amount of opioid prescriptions increased by 1,448%, according to a 2014 study (Pain Physician, March 2014, Vol. 17:2, pp. E119-E128).
"The burgeoning public health issue regarding opioid-related adverse events has [been]... well documented," Vowles and colleagues wrote. "The use of opioids in chronic pain brings with it marked potential for adverse events for the patient, including overdose, experience of physiological dependence, and subsequent withdrawal, addiction, and negative impacts on functioning."
Moreover, 35 of the 38 studies analyzed were conducted in the U.S. Because of this, the researchers suggested that opioid misuse is of high interest and perhaps a problem "somehow uniquely relevant to the U.S."
The U.S. accounts for about 5% of the world's population and consumes about 80% of the global supply of prescribed opioids, according to a 2012 study (Journal of Pain, August 2012, Vol. 13:8, pp. 715-724). Furthermore, the total U.S. societal costs of prescription opioid abuse were estimated at $55.7 billion in 2007, according to a 2011 study (Pain Medicine, April 2011, Vol. 12:4, pp. 657-667).
"Although there are likely to be many factors involved, neither the abundance of opioids prescribed for the treatment of chronic pain or the large proportion of studies of problematic opioid use seem to have helpfully diminished the prevalence, impact, or cost of chronic pain in the U.S since the explosion of opioid use for chronic pain," the authors of the current study wrote.
Dentists can prevent misuse by educating patients
One of the factors contributing to the opioid epidemic is the lack of patient education. Most people who are prescribed narcotics during an emergency room visit know more about the drugs from the media than they do from their prescribing doctor, according to a separate recent study by researchers from the University of Pennsylvania Perelman School of Medicine and published in Annals of Emergency Medicine (April 9, 2015).
"It was interesting to find that patients believe that taking an opioid as prescribed prevents the possibility of addiction, but also that patients are learning about opioids from television and from friends and acquaintances -- not healthcare providers," stated senior study author Zachary Meisel, MD, MPH, in a press release.
"If it is accurate that 1 in 4 patients on opioids display patterns of opioid misuse but not addiction, then perhaps more efficient targeting of treatment resources would be of benefit," the authors of the current Pain study wrote. "Some forms of misuse, for example, may be readily addressed through relatively low-intensity methods such as education or frequent follow-up visits."
Furthermore, the high rate of misuse does not necessarily mean that dentists should not prescribe opioids to at-risk patients. Vowles and colleagues cited a 2010 study in which patients deemed to be at a higher risk of opioid misuse were able to reduce their risk by attending regular meetings (Pain, September 2010, Vol. 150:3, pp. 390-400).
"These findings suggest that there are alternatives available to providers who treat high-risk patients beyond simply not prescribing the medications at all," the authors wrote.
However, research still needs to be done on the ongoing "opioid epidemic," according to Vowles and colleagues. They suggested future studies look for relevant information on patient and pain-related characteristics and also focus on specific types of problematic opioid use, so that policymakers and healthcare providers can use the data to make sound decisions.
Until then, the authors concluded, "We are not certain that the benefits derived from opioids, which are rather unclear ... compensate for this additional burden to patients and healthcare systems."