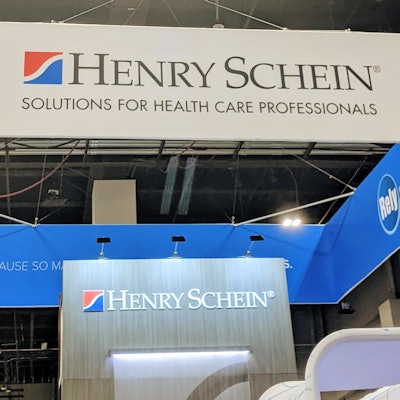 Henry Schein has agreed to pay $500,000 to settle a case in which the wholesale distributor allegedly improperly distributed hundreds of thousands of painkillers to dentists and other doctors despite red flags of drug abuse, according to a press release from the U.S. Department of Justice.
Schein entered into the settlement agreement to resolve violations of the U.S. Controlled Substance Act (CSA) for purportedly distributing prescription drugs to two dentists and three other doctors in five states between 2012 and 2018, stated the release from the U.S. Attorney's Office for the Southern District of West Virginia.
"Henry Schein, Incorporated played a role in fueling the opioid crisis in several states and today's announcement provides some measure of justice for those who have suffered as a result of their greed and unlawful actions," stated Todd Scott, special agent in charge and head of the Drug Enforcement Administration's (DEA) Louisville Division, which includes West Virginia, Kentucky, and Tennessee, in the release.
In a statement to DrBicuspid.com, Henry Schein called the opioid crisis in the U.S. a "terrible national tragedy" and denied any wrongdoing related to the settlement.
"We do not sell non-injectable opioids," a Henry Schein spokesperson told DrBicuspid.com by email. "We settled the matter to avoid further distraction and the associated use of resources, and, respectfully, we deny any wrongdoing related to this matter."
Alleged incidences of opioid diversion and abuse
Between January 2015 and October 2018, Henry Schein allegedly distributed approximately 25,400 hydrocodone pills and 3,600 Xanax pills to Dr. Scott Edmonds, a dentist practicing in Huntington, WV. Edmonds was one of the top practitioners for hydrocodone purchases in the state, according to the justice department.
After the DEA conducted an administrative inspection of Edmonds' office, the dentist admitted that he had obtained the substances from Henry Schein to feed his personal addiction. Edmonds voluntarily surrendered his DEA registration, underwent rehabilitation, and later entered into a civil penalty settlement with the U.S. for his CSA violations.
Further investigation revealed that Henry Schein purportedly enabled the dentist's abuse by overlooking numerous signs indicating drug abuse and diversion. Specifically, the dental distributor reportedly approved Edmonds' repeated requests to increase the quantities of controlled substances he could order, and Henry Schein personnel cleared the dentist to continue abusing the medications after an office inspection in February 2016 revealed that he was not properly accounting for the drugs, according to the justice department.
Edmonds wasn't the only dentist to whom Henry Schein allegedly improperly distributed opioids: The distributor is accused of supplying more than 24,000 hydrocodone pills between July 2012 and September 2014 to Dr. Larry Preston, a general family dentist practicing near Bristol, TN. From 2006 through 2014, Preston was continually among the top three dental practitioners purchasing oral hydrocodone in the Knoxville, TN, area. In 2012, 2013, and 2014, Preston purchased more oral hydrocodone than any other dentist in the Knoxville area, the justice department noted.
In 2015, U.S. and state agents learned that Preston had been taking approximately 15 hydrocodone tablets daily since 2002. Preston pleaded guilty to federal charges in Tennessee in 2015.
Additionally, Henry Schein allegedly sold more than 100,000 hydrocodone pills to Dr. Elizabeth Korcz, a family medicine physician in Hoover, AL. The doctor and her husband, Matthew Korcz, were indicted in the U.S. District Court for the Northern District of Alabama and pleaded guilty to charges of conspiracy to unlawfully dispense controlled substances, according to the justice department.
From 2013 to 2017, Henry Schein reportedly sold nearly 55,000 hydrocodone units to Dr. John Eldridge, a chiropractor and naturopathic physician in Phoenix, despite red flags of abuse and diversion and a significant disciplinary history related to his license to practice medicine. In August 2021, Eldridge pleaded guilty in Arizona to charges of solicitation to offer to sell or transfer a narcotic drug and surrendered his naturopathic medical license.
Also, from April 2014 to July 2016, Henry Schein allegedly distributed nearly 4,000 oxycodone and hydrocodone tablets to Dr. Frank Purpera, a vascular surgeon in Blacksburg, VA. Purpera illegally distributed the opioid tablets, providing many to his wife, federal investigators found. In January 2020, Purpera was convicted of illegally distributing controlled substances, healthcare fraud, conspiracy to commit healthcare fraud, and obstruction of justice.
Controlled substance distributors are required to report suspicious drug orders from physicians, as well as to maintain effective controls to prevent diversion. Henry Schein's alleged failure to comply with these responsibilities enabled the clinicians to divert and abuse controlled substances, according to the justice department.
"Together with the DEA, we will utilize every tool at our disposal to hold accountable those that contribute to the diversion of opioids, fuel substance use disorder and cause despair and death among our families," stated West Virginia U.S. Attorney Will Thompson in the release.