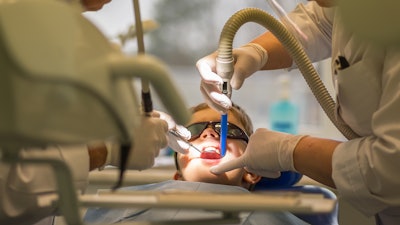 An advocacy campaign by the American Academy of Pediatric Dentistry (AAPD) to allow oral health surgeries to be performed in ambulatory surgical centers (ASCs) has elicited bipartisan support in the U.S. Congress.
Letters from the U.S. House of Representatives and U.S. Senate were sent this week to the U.S. Centers for Medicare and Medicaid Services urging that the change be implemented in the 2024 outpatient prospective outpatient payment system (OPPS) rule, according to the AAPD. If the new dental surgical code is adopted, it would expand access to oral health surgeries for children served by the Medicaid program and for people with disabilities, the academy said.
Reps. Drew Ferguson (R-GA) and Terrie Sewell (D-AL) and Sens. Ben Cardin (D-MD) and Marsha Blackburn (R-TN) led the letter-writing effort in Congress. Meanwhile, the Health Task Force of the Consortium for Constituents with Disabilities has also submitted a separate letter to request urgent action in support of the AAPD's message, the academy said.