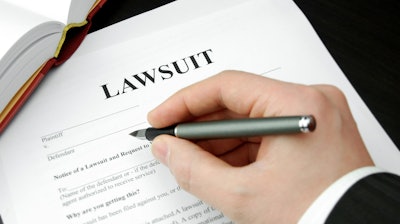 An Ohio man is suing the manufacturers of the transmucosal opioid use disorder and pain prescription medication Suboxone claiming that the drug's high acidic content caused tooth decay and permanent dental damage.
On September 25, David Sorensen filed a product liability lawsuit in the U.S. District Court for the Northern District of Ohio against Indivior, Aquestive Therapeutics, MonoSol Rx, and Beckitt Benckiser. Sorenson, who was prescribed Suboxone after he became addicted to opioids that he took to manage his pain, claimed he has permanent tooth decay and has needed extensive dental work as a result of using this medication, according to the suit.
"Defendants knew or should have known that Suboxone, when used as prescribed and intended, causes harmful damage to the teeth due to the acidity of buprenorphine," according to the suit.
Indivior allegedly knew that those taking Suboxone, a combination of buprenorphine and naloxone that helps those addicted opioids avoid withdrawal symptoms, carried a risk of tooth decay long before 2022, when the U.S. Food and Drug Administration (FDA) issued a warning that the medication may cause dental problems. In 2010, the manufacturer submitted to the FDA nearly 20 reports of patients who had developed dental issues following Suboxone use, according to the suit.
Additionally, in 2012, case reports disclosing dental problems linked to Suboxone use were published. Specifically, one report identified 11 patients at Brigham and Women's Hospital in Boston between May and November 2012 who experienced worsening dental health. The patients had cracked teeth, crown replacements, root canals, tooth extractions, and required more fillings, which was attributed to prolonged contact with Suboxone, according to suit.
In January 2022, the FDA warned that there had been more than 300 cases of tooth decay and loss and oral infections -- even in patients with no history of oral health issues -- associated with the use of Suboxone and buprenorphine medications. More than 130 cases were considered serious, according to the lawsuit. Later in 2022, the FDA ordered an update to the prescribing information for all buprenorphine products, including Suboxone films and tablets, due to the risk of dental problems.
However, the manufacturer reportedly changed the prescribing information to add warnings about the risk of dental problems but failed to add it to the drug guide most viewed by patients, according to the lawsuit. Along with its warning, the FDA recommended that dentists treating patients taking transmucosal buprenorphine perform a baseline dental exam and a caries risk assessment, establish a cavity preventive plan, and encourage regular checkups.
Sorenson is seeking compensatory and punitive damages plus attorney fees, according to the suit.