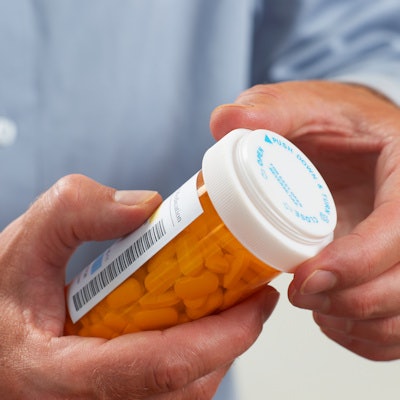 Dentists continue to overprescribe opioids to their patients despite being aware of the effectiveness of nonopioid analgesics for managing dental pain, according to the results of a Georgetown University survey published on October 21 in the Journal of the American Dental Association.
Of 269 survey responses from dentists in the U.S., 84% of respondents reported believing that nonsteroidal anti-inflammatory drug (NSAID)-acetaminophen combinations are equally as effective or more effective than opioids. However, 43% of those surveyed also reported regularly prescribing opioid medications.
"These results suggest that dentists are familiar with the evidence about the effectiveness of NSAID-acetaminophen medications, but their self-reported prescribing patterns demonstrate a disconnect," said first author Matthew Heron in a statement from Georgetown University Medical Center. Heron conducted the research as an undergraduate student at Georgetown's School of Nursing and Health Studies.
In addition, the survey revealed that of those who prescribe opioids, 50% reported that the quantity of opioids they prescribe for dental pain could be expected to yield leftover pills. Often the reason cited for this practice was to deter phone calls from patients.
Almost 90% of respondents who prescribed opioids said they would most likely not prescribe them to adolescents (ages 11-18). However, more than half of respondents were "equally likely" or even "more likely" to prescribe opioids to young adults (ages 19-25) compared to older patients, according to the paper.
"We know that the first exposure to opioids for many people occurs in their teens and early 20s following common dental procedures like third molar extractions," added Nkechi Nwokorie, who also conducted the study as an undergraduate at Georgetown. "This is a particularly vulnerable population for misuse."
Dentists have historically represented the largest prescribers of opioids to adolescents and young adults, according to the U.S. Centers for Disease Control and Prevention (CDC). On its site, the CDC recommends clinicians prescribe the lowest effective dose and only the amount needed.
The report suggests that dentists could benefit from continuing training on dental pain management. Of those surveyed, 54% reported that the pain management education they received in dental school no longer aligned with current recommendations, and 14% of respondents reported not receiving pain management education in dental school.
"This underscores the need for more education about the harms of opioids and the need for national guidelines to align clinical practice with current evidence," said Dr. Adriane Fugh-Berman, a professor at Georgetown University Medical Center, in the statement.
The study concluded with four recommendations:
Education on pain management: Dental school curricula and continuing dental education should be revised to cover pain management and to establish a new common practice based on the use of NSAID-N-acetyl-p-aminophenol combinations to treat acute dental pain.
Increased awareness of rational opioid prescribing: Continuing education courses and state and national guidelines should address and deter the overprescription of opioids, particularly to adolescents and young adults.
Increased use of prescription drug monitoring programs (PDMPs): Dentists and dental hygienists should make greater use of their state's PDMPs to identify patients who may be attempting to misuse or divert their opioid prescriptions.
Need for national guidelines: The ADA should formulate national guidelines that discourage the prescription of opioids and establish nonopioid analgesics as the analgesic standard of care.
The survey was conducted by PharmedOut, a Georgetown University Medical Center project, and reached dentists in 30 states from January 15 to February 14, 2020. One of the study limitations noted by the authors was that the survey was distributed to dental schools or societies, which resulted in community dentists, as well as those practicing in rural areas, being underrepresented in the responses.