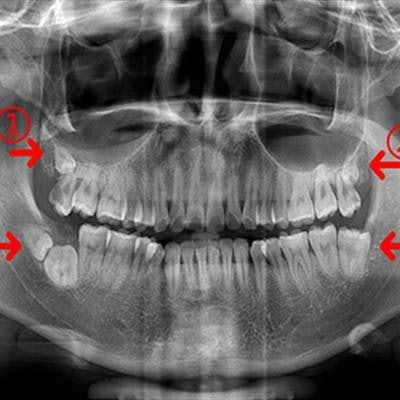 Cone-beam CT (CBCT) revealed that a man had the rare dental conditions of kissing molars, bilateral distomolars, and macrodontia. An intraoral exam failed to detect the conditions, according to a case report published April 16 in BMC Oral Health.
Each condition is rare on its own, and clinicians believe this case is the first reported involving all three types. Since 1973, only 32 cases of kissing molars have been published, according to the authors.
"The combination of kissing molars, maxillary bilateral supernumerary teeth and macrodontia is very rare, especially presented in the patient with no syndromes," wrote the group, led by An Lao, DMD, from the department of prosthodontics at Wenzhou Medical University in China.
Supernumerary teeth equal problems
Supernumerary teeth are extra teeth that develop in addition to the set that is considered normal. A distomolar is a supernumerary tooth that stands distal to a third molar.
Kissing molars, which are extremely rare, are impacted distomolars that point in the opposite direction in one follicular space. Macrodontia is a rare shape anomaly characterized by a large crown and tapering root.
Having supernumerary teeth is also rare: The condition is found in a maximum of 3.8% of permanent teeth. The prevalence of having more than three supernumerary teeth is less than 1%, and in most of these cases, the condition is accompanied by syndromes or developmental anomalies, such as cleidocranial dysostosis, a birth defect that affects bones and teeth.
The discovery and treatment of supernumerary teeth are important because they often cause complications such as root absorption, decayed teeth, ectopic eruption, overcrowding, periapical absorption of permanent teeth, and migration into the nasal cavity or maxillary sinus. Additionally, the large crown size of macrodontia causes problems with eruption and disrupts the dentition.
It started with pain
In the current case, a 22-year-old man from China was referred to the university's department of oral maxillofacial surgery after experiencing pain in the upper posterior teeth for four days. An intraoral exam found that the man's teeth were normal without abnormal occlusion. One tooth was partly erupted and had caries, and another was partly erupted. No abscess or fistula was discovered.
To get a better visual of the man's teeth, a dental panoramic tomogram was taken. It showed that dental caries had already approached the distopulpal horn, and there was no low-density shadow around the apical root, which led them to determine that the irreversible pulpitis caused his pain, the authors wrote. The patient also underwent CBCT with 3D reconstruction. Overall, imaging revealed the following:
Two maxillary bilateral distomolars located at the buccal side of adjacent third molars
One mandibular distomolar with the adjacent third molar contacted by occlusal surfaces while roots were pointed oppositely, which were diagnosed as kissing molars
One mandibular third molar on the left with a large crown and a tapering root, which would be considered macrodontia
The findings were rare because the man had never been diagnosed with any associated medical conditions and had no family history of these conditions, they wrote.
CBCT was an important tool for this discovery.
"Evaluation with the CBCT revealed detailed imaging of significant anatomical structures and objects of interest, with highly accurate anatomical and morphologic imaging in contrast to the intraoperative findings," the authors wrote.
Patient recovery
After his carious tooth was removed to prevent more serious cavities, clinicians decided no additional treatment was required at that time. The patient showed no symptoms or pathological changes associated with supernumerary teeth or macrodontia, so the clinicians recommended long-term observation to evaluate him for any related problems in the future.
Systemic diseases and genetic inheritance were excluded as possible causes of the rare conditions, the authors noted.
"Further investigations about etiology and treatment [still need] to be explored," they wrote.