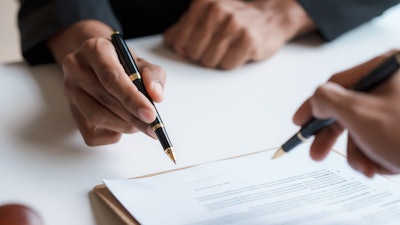 SmileDirectClub has settled a lawsuit filed by the Washington, DC attorney general's office, which claimed that the clear aligner company made injured and dissatisfied customers sign nondisclosure agreements (NDAs) to receive promised refunds.
On June 22, Washington, DC Attorney General Brian Schwalb announced in a press release that SmileDirectClub will be required to release more than 17,000 U.S. consumers from provisions in its NDAs. Also, it must change its refund policy for U.S. consumers and notify those who previously signed NDAs that they are now free to speak about their experiences, stop requiring consumers to sign agreements that prevent the sharing of information before providing refunds, and pay $500,000 to the District of Columbia.
"This litigation and settlement send a clear message to other businesses that using NDAs to silence customer feedback can be an unfair and deceptive trade practice and a violation of DC consumer protection law," Schwalb said in the release.
SmileDirectClub did not release the exact terms of the agreement, but the company stated in a press release that it will "tailor the nondisclosure provision more narrowly in its general release." However, SmileDirectClub stated that it had planned to revise the provision prior to the litigation due to its infrequent use and misinformation.
"For too long there has been a misinformation campaign claiming SmileDirectClub stifles negative consumer feedback through the use of non-disclosure agreements," Susan Greenspon Rammelt, chief legal officer, said in the release. "While we were disappointed this misinformation caused the District of Columbia to file its complaint, we are pleased to set the record straight."
In the future, SmileDirectClub can only choose to impose NDAs restricting consumers' ability to discuss their experiences with its products specifically when customers are represented in litigation by an attorney or if they receive more than $5,000 in refunds, which is more than double the cost of its clear aligners, according to the attorney general's release.
In December 2022, Karl Racine, the attorney general at that time, sued the online orthodontics company, accusing it of improper use of an NDA. The suit claimed that SmileDirectClub violated DC law by reportedly forcing consumers who wanted refunds to sign confidentiality agreements, prohibiting them from writing online reviews and preventing them from filing complaints with regulators and law enforcement.
The suit alleged that the company engaged in unfair and deceptive business practices, including requiring consumers to sign NDAs to get any money back after the first 30 days of clear aligner therapy. Additionally, the agreements allegedly prevented consumers from making any negative comments about SmileDirectClub or its products, required them to delete any negative reviews or social media posts they had already made, and imposed penalty fines of $10,000 per violation and threats of litigation.
Additionally, SmileDirectClub said it does not have consumers sign a general form of release or agree to a confidentiality agreement before or during treatment to receive a prorated refund. The release form the company has used has been modeled by others that have been historically used within the industry, according to the release.
"We encourage the rest of the orthodontic industry to follow our example as a leader in consumer transparency and embrace honest reviews and feedback from consumers in digital forums," Greenspon Rammelt said.