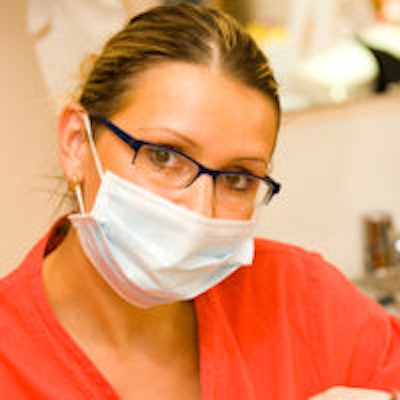 Dental hygienists can play a critical role in improving access to high-quality services, especially for underserved populations and children, according to a new report by the National Governors Association. But restrictive state rules, particularly regarding supervision and Medicaid reimbursement, limit their ability to provide a range of services.
Oral health is an important determinant of overall health, yet access to such care is challenging for millions of Americans. Oral diseases ranging from caries to more widespread infections can lead to serious complications of chronic conditions, debilitating pain, absenteeism from work and school, nutrition issues, loss of teeth, impacts on children's growth and social development, adverse pregnancy outcomes, inefficient use of emergency department services, and even death, according to the report.
Now, several U.S. states are considering expanding the oral healthcare workforce, especially dental hygienists, to increase access to care, particularly in vulnerable populations.
Specifically, many states are exploring changing supervision or reimbursement rules, as well as creating professional certifications for advanced-practice dental hygienists. Studies of pilot programs have shown safe and effective outcomes, and international research provides strong evidence that advanced-practice dental hygienists deliver safe, high-quality care, the report noted.
About 25% of nonelderly Americans have untreated caries, the most common chronic illness among school-aged children. Low-income people, including children, are more likely to have had caries and are more than twice as likely to go without treatment, studies show. Also, the caries rate is higher for minority ethnic groups and poor Americans.
Factors contributing to poor oral health
The reasons why many Americans do not get adequate oral healthcare are complex, the report noted, but an important factor is income. Approximately 22% did not seek needed dental care in 2010 because they could not afford it, studies show.
Some 57% of those with private insurance got dental care during the past year, but only 27% of those without coverage and 32% of those with public coverage such as Medicaid had a dental visit, according to the Medical Expenditure Panel Survey by the Agency for Healthcare Research and Quality.
"As states face more demand for oral health, they should examine the role that dental hygienists can play in increasing access to care by allowing them to practice to the full extent of their education and training."
— National Governors Association report,
"The Role of Dental Hygienists in
Providing Access to Oral Health Care"
Notably, states are not required to offer dental care through Medicaid for adults, and less than half cover preventive oral healthcare through Medicaid. Medicare mainly covers only extractions, and 44% of Medicare patients reported no dental care in 2011, according to a Kaiser Family Foundation report.
The Patient Protection and Affordable Care Act (ACA) requires pediatric dental coverage as part of the essential health benefits. Also, federal guidelines require pediatric dental coverage in state Medicaid and Children's Health Insurance Programs, but relatively few children covered in the programs get oral care, mainly because many dentists don't accept such insurance, the report noted.
In 2011, less than 40% of Medicaid-eligible children ages 1 to 5 received any dental care and even fewer got preventive dental services, the report stated.
Research suggests that both increasing Medicaid payments and streamlining the paperwork would modestly increase oral care and decrease the distance patients have to travel to get it.
While the number of dentists is expected to decline from 60 per 100,000 people in 1994 to 55 per 100,000 in 2020, studies show that having more allied dental professionals will substantially increase dentists' productivity and mitigate the trend, according to a 2013 ADA report on workforce models.
The ADA and most state dental associations have steadfastly opposed allowing midlevel providers (MLPs) to do restorations and extractions, citing concerns about nondentists performing surgical/irreversible procedures. The ADA also has released reports concluding the MLP model is not economically realistic or sustainable.
Expanding the role of dental hygienists
Expanding the availability of affordable preventive services outside of dentists' offices might reduce the most serious consequences of limited access to dentists. Dental hygienists are potentially well-suited to play an important role in expanding affordable access, the governor's report stated. The services that are most effective in preventing serious dental disease fall within dental hygienists' normal scope of practice -- prophylaxis, fluoride application, and sealant application.
A significant barrier to the increased use of dental hygienists is scope of practice and supervision requirements mandating that hygienists work directly with dentists to provide prophylactic services, according to the report. Advocates for decreasing mandatory supervision argue that dental hygienists are more likely to practice in shortage areas and provide more affordable services to high-need populations. To provide hygienists with incentives to practice in such communities, some states proposals for expanding the role of dental hygienists would require them to work in areas with few dentists or with underserved populations.
Scope of practice and education
Although dental hygienists are trained to provide prophylactic services, some states require a dentist's presence or specific authorization from a dentist before a hygienist can provide such services.
Most dental hygienists have an associate's degree, including an average of 535 hours of supervised clinical instruction. Some proposals advocating the expansion of dental hygienist practice suggest they should get additional training (certification, continuing education, or a more advanced degree) before practicing with less supervision. Only 58 programs provide a bachelor's degree in dental hygiene, which requires on average 3,073 hours of instruction. It is much cheaper to open new dental hygiene programs than dental schools (which, on average, are more costly to open and operate than medical schools), studies have shown.
Currently, there is a wide variation in state law and regulations defining supervision requirements in both public and private settings. (Click here to view a chart of the current state of dental hygienist scope-of-practice rules.)
Most states also differentiate among supervision requirements for dental hygienists based on whether services are provided in private practice or a public setting (e.g., schools and nursing homes).
Seven states require direct supervision for all three major preventive tasks -- prophylaxis, fluoride application, and sealant application -- although some make an exception for at least one of those tasks in public settings with a dentist's authorization; one state requires direct supervision for sealants only.
Of the three supervision levels, dental hygienists operating under direct-access requirements have the greatest autonomy. They are allowed to initiate treatment based on their assessment of a patient's needs without the specific authorization of dentists, treat the patient without the presence of a dentist, and maintain a "provider-patient relationship." In most states, to provide direct-access services, hygienists are required to complete additional continuing education courses or demonstrate specific levels of experience.
But, particularly important for children, not all direct-access states allow it in public schools, which prevents dental hygienists from independently participating in school-based efforts to increase access to dental care, the governor's report noted. Currently, 19 states require dentists to examine students before hygienists can apply sealants, according to a Pew Center report, which concluded that such policies limit the number of students who can be served through such programs.
Colorado and Maine allow an independent scope of practice for hygienists, with no requirements for oversight by dentists. In Colorado, for example, hygienists can open their own practices and provide basic services, including prophylaxis, fluoride and sealant application, and taking x-rays.
In California, registered dental hygienists in alternative practice (RDHAP) must be licensed dental hygienists, have a bachelor's degree, complete 150 hours of additional education courses, and pass a written examination. They can perform the same tasks as dental hygienists but without supervision or prior examination by dentists. RDHAPS are permitted to practice only in underserved areas or nursing homes, and must have a dentist of record for referral or consultation.
A 2009 survey of California RDHAPs found that more than two-thirds of their patients had no other source of oral healthcare, the report stated. Surveys show that RDHAPs charged lower fees than dentists.
Minnesota has established dental therapists and advanced dental therapists, which require a bachelor's or master's degree and additional clinical practice. They can provide restorative services beyond the scope of preventive services traditionally provided by dental hygienists. They can also work in various settings as long as half their patients are low-income.
Alaska has dental health aide therapists that require a two years of training; they provide preventive and restorative care with remote or in-person supervision by dentists.
Dental therapists have been prevalent in New Zealand and Australia since the early 20th century and now practice in more than 40 countries. They are required to have more training than a dental hygienist and can diagnose and perform restorative services. International studies have found they provide safe, quality dental care, the report noted.
In December, the U.S. Federal Trade Commission (FTC) endorsed the proposed accreditation standards for dental therapists by the Commission on Dental Accreditation for dental therapists, saying the midlevel providers could improve access to dental care. But the group also recommended removing "unnecessary language" regarding the supervision and practice scope of the dental therapists.
Barriers limiting dental hygienist practices
Reimbursement policies can create significant barriers to independent dental hygienist practices, because state laws are not always aligned with Medicaid reimbursement policies, the report noted. Although some states allow the hygienists to provide preventive care on a direct-access or independent basis, the hygienists might not be able to directly bill Medicaid. Therefore, lack of reimbursement affects the likelihood that they will be able to provide access in low-income settings, according to the report.
Only 15 states allow Medicaid to directly reimburse hygienists. More than half the states allow direct-access hygienists to work with underserved populations in some public settings, but explicitly bar them from practicing in private settings, the report noted.
"The rationale that state dental boards most commonly use for restricting hygienists from practicing in unsupervised settings focuses on concerns about quality and safety, even though no clear evidence exists to support such restrictions," the NGA report stated. "Furthermore, if the basis for restricting the expanded scope of practice is a concern about safety and efficacy (as unfounded as this concern may be), these concerns should apply regardless of the income level of the recipient or the site of care."
Some also argue that barring dental hygienists from providing direct-access services for subsets of patients can be considered an unfair trade restriction. For example, when the Georgia Board of Dentistry proposed barring hygienists from providing preventive services in public settings without direct supervision, the FTC said there was no evidence that allowing hygienists to provide such care without supervision was a safety issue and such restrictions unnecessarily reduces competition.
However, the report concluded that although there are indications that independently practicing dental hygienists are more likely to provide services to underserved populations, it remains uncertain whether independent-practice dental hygienists will address the shortage of oral healthcare workers. Dental hygienists practicing independently could face the same economic disincentives as dentists, whose professional boards argue that low reimbursement, high administrative burdens, and expensive equipment and insurance required to run dental offices are the main barriers to treating low-income or uninsured populations, the report stated.
Conclusion
The NGA report acknowledged that some of the barriers to access for underserved populations will be the same, regardless of whether services are provided by a dentist or a dental hygienist. Those barriers include low health literacy, low reimbursement rates for the publicly insured, and high administrative burdens for reimbursement from public payors.
"Innovative state programs are showing that increased use of dental hygienists can promote access to oral healthcare, particularly for underserved populations, including children. There is evidence indicating that these practices can be both safe and effective," the report concluded. "As states face more demand for oral healthcare, they should examine the role that dental hygienists can play in increasing access to care by allowing them to practice to the full extent of their education and training."