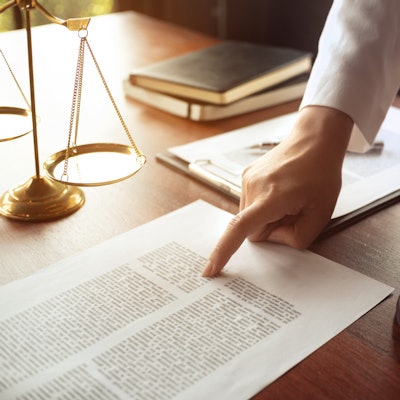 Connecticut Governor Ned Lamont signed the state's fiscal year 2023 budget adjustment bill into law last month, which contains a provision concerning the provision of nonemergency dental services at federally qualified health centers (FQHCs) in the state.
The bipartisan bill, HB 5506, was signed by Lamont on May 7, according to a press release dated May 9 from Lamont's office. The budget adjustment bill's language mirrors a previous bill, "An Act Concerning Federally Qualified Health Center Payments and the Provision of Nonemergency Dental Services at Such Centers," that died in committee earlier this year.
Under the new law, Connecticut prohibits FQHCs from providing nonemergency, periodic dental services on different dates of service to enable billing for separate encounters. This unethical activity is commonly called "patient churning."
FQHCs are typically remunerated by their respective states on a patient encounter basis -- not on a fee-for-service basis like private sector dental Medicaid providers. Excessive patient appointments may be artificially generated to elevate income from increased patient encounters.
Medicaid billing abuses by FQHCs may have been on the minds of state legislators this session. Last year, Connecticut FQHC Cornell Scott Hill Health settled with the U.S. Department of Justice and the Connecticut Attorney General's Office for alleged dental Medicaid billing abuses involving encounter fees.
Connecticut FQHCs will now be required to complete nonemergency periodic dental service in one visit, including exams, prophylaxis, and radiographs, such as bitewings, complete series, and periapical imaging. The bill makes second visits to complete any service normally included during a nonemergency periodic dental visit ineligible for reimbursement, unless the visit is medically necessary and clearly documented that way in the patient's dental record.
The new law becomes effective on July 1, 2022. Limitations on the unbundling of certain nonemergency periodic dental services by FQHCs have already been established in a number of states, including California, Florida, Oregon, New York, Pennsylvania, and Louisiana.
On March 8, Deidre S. Gifford, Connecticut's commissioner of the department of social services, presented testimony favoring the original bill to the state legislature.
"Providing the routine preventive procedures on separate dates of service adds unnecessarily to program costs when services are unbundled and imposes additional, unnecessary barriers to accessing dental care on members who must navigate the impacts of multiple dental visits," Gifford stated.
Dr. Michael W. Davis practices general dentistry in Santa Fe, NM. He also provides attorney clients with legal expert witness work and consultation. Davis currently chairs the Santa Fe District Dental Society Peer Review Committee. He can be reached at MWDavisDDS@Comcast.net or SmilesofSantaFe.com.
The comments and observations expressed herein do not necessarily reflect the opinions of DrBicuspid.com, nor should they be construed as an endorsement or admonishment of any particular idea, vendor, or organization.