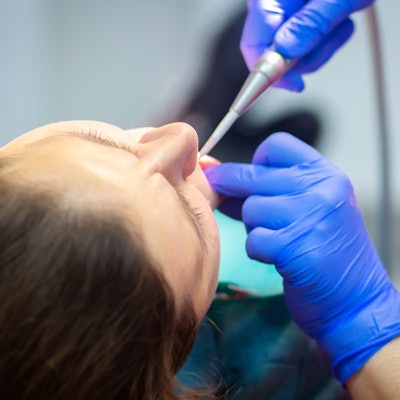 In a March letter, the U.S. National Council on Disability (NCD) urged President Joe Biden and the U.S. Centers for Medicare and Medicaid Services (CMS) to require all state Medicaid agencies to provide dental benefits to adults with intellectual and developmental disabilities (I/DD).
The letter was part of a larger NCD report that examined the relationship between states' Medicaid dental benefits and outcomes. Of the 7.3 million adults with I/DDs, 4.5 million rely on Medicaid, which does not guarantee dental coverage in all states.
The letter and report, released on March 9, explored whether the CMS should require state Medicaid agencies to have reimbursement policies that promote dental care access and whether doing so would be cost-effective.
"The answer is 'absolutely yes' to both questions," NCD Chairman Andrés J. Gallegos wrote in the letter to Biden.
More so, the NCD report found that providing dental benefits to all U.S. adults with I/DD would generate a return on investment (ROI) for state and federal governments. Currently, 12 states offer no or emergency-only Medicaid dental benefits for adults with I/DD. If these states provided basic dental benefits instead, the federal and 12 state governments could save more than $7 million per year, the NCD report found.
"In this report, NCD examines the cost in those jurisdictions of not providing Medicaid dental benefits for adults with I/DD and determines that it is more cost effective and fiscally responsible to provide those benefits than to continue excluding those benefits," Gallegos wrote.
Savings tied to fewer emergency visits
To reach its findings, the NCD undertook numerous research methods, including holding a stakeholder meeting over Zoom, interviewing experts about state policies, sending a questionnaire to all directors of state developmental disabilities agencies, and analyzing Medicaid claims data and the relationship between coverage and reimbursement.
Adding dental Medicaid coverage in the 12 states that do not currently provide basic dental benefits would cost about $19.6 million per year, the report found. However, reductions in emergency department visits and other types of hospital care would almost fully offset this expenditure. When the NCD added in reduced chronic disease costs, it projected that the states and federal government could see a ROI of about $7.7 million per year beyond the initial cost.
ROI for providing basic dental benefits in states with no or emergency-only coverage
State
Total ROI
State ROI
Alabama
$1,184,785
$324,868
Arizona
$191,505
$57,432
Florida
$498,263
$189,539
Georgia
$1,185,988
$391,020
Hawaii
$69,180
$32,501
Maryland
$1,659,606
$829,803
Nevada
($120,716)
($60,358)
New Hampshire
$154,881
$56,841
Oklahoma
$47,414
$15,177
Tennessee
$374,279
$126,881
Texas
$1,795,463
$685,687
Utah
$646,448
$209,966
Total
$7,687,095
$2,859,358
"In states that provide no dental care in their Medicaid plans, a significantly higher proportion of dental care is provided in emergency departments, driving up costs and not necessarily even addressing the preventable health concerns that come with this type of reactive health care," NCD Council Member Dr. Rick Rader said in a statement.
Importantly, the report could not assess the effects of raising dental care reimbursement rates because of data limitations. Prior research suggests that increasing dental reimbursement rates could further improve medical outcomes, but more research is needed to determine whether that holds true for this population.
Based on the findings, the NCD issued five recommendations:
Use a federal mandate to require state Medicaid programs to provide adult dental benefits to people with I/DD.
States without benefits should add dental coverage for adults with I/DD.
Use Medicaid to potentially fund programs to address other oral healthcare barriers.
Improve transparency about reimbursement rates for managed care organizations.
Conduct research to help create clear policy recommendations aimed at reducing dental care services in hospital operating rooms.
"Given that dental health is a predicate for general health, and general health is a predicate for employment, education, and community life, we want to offer policymakers insights into how they can help improve oral health outcomes for people with I/DD," NCD Vice Chair Jim Brett said in a statement. "This initial study begins an important examination of access barriers."