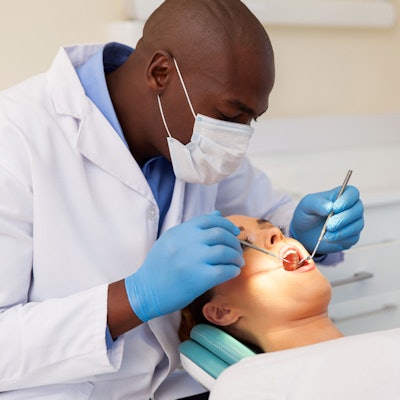 An estimated 1 in 3 dentists in the U.S. treat Medicaid patients, and those who see low-income patients are less likely to be white, according to a panel discussion held on September 15 by the ADA Health Policy Institute (HPI).
Furthermore, racial and ethnic differences in Medicaid participation are not accounted for simply by where dentists locate. White dentists who treat Medicaid patients and work in areas in which most of the population is nonwhite are predicted to treat fewer Medicaid beneficiaries than dentists of other races, said HPI economist Kamyar Nasseh, PhD, while discussing the results of a study published in Medical Care Research and Review.
"Minority dentists react differently and participate intensely (in Medicaid) when they work in nonwhite ZIP codes than white dentists," Nasseh said.
Since pediatric Medicaid and dental benefits are mandatory and are primarily uniform across states, unlike adult Medicaid benefits, the new research focused on children. HPI's final sample included 132,612 dentists.
To measure dentist participation in Medicaid and the Children's Health Insurance Program (CHIP), HPI used data from InsureKidsNow.gov, a website administered by the U.S. Centers for Medicare and Medicaid Services, and 2017 Medicaid and CHIP claims data. They also used a 2017 dentist provider database that identified practice locations, dentist specialty, practice size, and other practice characteristics. Due to a high number of missing National Provider Identifier values, Washington, DC; Pennsylvania; Arkansas; Indiana; Nebraska; Nevada; South Dakota; and West Virginia were excluded.
An estimated 33% of dentists treat at least one Medicaid patient, which is down from HPI's previous estimate of 43%. Of the total number of dentists, 67% had no Medicaid patients, and 23,472 dentists had more than 100 Medicaid patients, according to the results.
Percentage of dentists by number of Medicaid patients
0 patients
67%
1-9 patients
4.7%
10-100 patients
10.6%
100+ patients
17.7
Also, there were major differences in terms of race and where dentists work. Among white dentists, the estimated marginal effect of locating in a majority nonwhite ZIP code on the predicted number of Medicaid patients was significantly lower than it was for Black dentists.
When white dentists were located in ZIP codes that had a majority of nonwhite residents, they were expected to have 97 more Medicaid patients (95% confidence interval [CI], 87.3, 107.4) than if they were in areas with a majority of white people. But when Black dentists were located in majority nonwhite ZIP codes, they were expected to have about 144 more Medicaid patients compared with Black dentists in majority white ZIP codes (95% CI, 125.76, 161.28).
Though potentially alarming, the low number of dentists who treat patients with Medicaid is not surprising. In October 2021, an HPI policy brief showed that states with a large share of dentists enrolled in Medicaid weren't necessarily treating those patients. In December 2020, HPI data revealed that COVID-19 caused 8% of dental providers to disenroll from Medicaid.
"On some level, the results were somewhat disturbing," Dr. Romesh Nalliah, a webinar panelist and associate dean for patient services and clinical professor of dentistry at the University of Michigan, said. "Race is a social constraint ... what an impact this social constraint has on the way people practice, seek care."
The panelists agreed that the results left them with more questions, specifically why Medicaid participation is lower among white dentists and whether recruiting more nonwhite providers is the answer to ensuring patients have access to dental services.
"Promoting growth among Black, Asian, Hispanic dentists is just a Band-Aid," Nalliah said. "Dentists in the United States of America are to take care of all. Why are more Black Americans on Medicaid, less likely to graduate high school, less likely to go to dental school? It's because of racism -- 300 years of structured racism."
Another panelist, Bianca Frogner, PhD, a professor and director for the Center for Health Workforce Studies at the University of Washington, added that patients can't wait to receive care until the pools of dentists better represent them.
"Dentists need to feel comfortable caring for patients that don't look like them, and patients need to feel comfortable with them," Frogner said. "Providers need to get training."