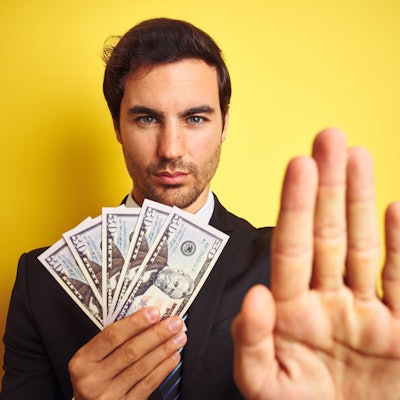 Numerous dentists work in the demanding public sector environment of federally qualified health centers (FQHCs). These providers work on challenging cases for lower pay than their private practice counterparts. But the same isn't always true for those at the top -- some executives earn millions per year in compensation.
FQHCs are nonprofit corporations that provide primary healthcare in underserved areas or to underserved populations. They must meet stringent requirements, including providing care with a sliding-scale fee based on ability to pay and operating under a governing board that includes patients.
Because FQHCs often treat highly compromised patients -- and under challenging clinical circumstances -- they usually qualify for enhanced reimbursements from Medicare and Medicaid. They may provide preventive health services, dental care, mental health and substance abuse services, transportation for patients lacking conveyance, and possibly hospital and specialty healthcare.
Pay of dentists working in FQHCs
Salaries for dentists with FQHCs average $148,960 per year, according to ZipRecruiter. UHC Solutions places that average salary even lower, at $125,411. These figures contrast with an overall annual average income of $166,403 for dentists.
At the same time, NerdWallet shows the average dental education debt for 2020 is $304,824. A 10-year repayment plan at 7% interest amounts to more than $3,500 per month in payment.
One student loan repayment option available to health professionals employed at FQHCs is the National Health Service Corps Loan Repayment Program (NHSC-LRP). Although a recent dental graduate may not earn the salary of the average FQHC dentist, the NHSC-LRP may seemingly narrow the income gap and reduce student loan debt.
Unfortunately, government repayment amounts are paltry and frequently will not cover interest on outstanding debt. Working at least 40 hours per week for two years of full-time employment may only reduce debt up to $50,000. If the dentist is working 20 to 39 hours per week, the maximal reduction is up to $25,000 for two years of service. Furthermore, these awards are subject to taxation.
Pay of FQHC directors and CEOs
While the income of dentists working in FQHCs falls short of dentists in other practice arrangements, the compensation can be much more lucrative for FQHC executives.
The median income for an FQHC executive is $226,195, and the typical range is $187,739 to $288,615. These principals usually have a bachelor's or master's degree in business or management or a master's degree in public health. A few have a doctoral degree in the health sciences.
A few outliers receive compensation on par with executives at Fortune 500 companies. Moreover, a number of FQHCs that retain these highly remunerated leaders have been engaged in allegedly dubious activities.
Documents filed for the 2019 tax year showed that Sarrell Dental Director Todd Cruse received a total compensation package of $1,254,804. Some may recall Cruse as a former officer at Small Smiles, the now-bankrupt dental chain behind a $24 million federal lawsuit for allegedly performing unnecessary procedures on children.
That same tax year, Rogelio Riojas, the executive director of Sea Mar Community Health Centers in Washington, netted nearly $1.5 million in compensation. Chief Medical Officer Ramos R. Jimenez earned $1,452,962 and Chief Dental Officer Alejandro Narvaez reined in $1,237,421.
In 2015, Sea Mar settled a $3.35 million lawsuit with the state of Washington for allegations over improper Medicaid billing. Allegedly, the FQHC billed out standalone dental fluoride treatments delivered by dental assistants at the "patient encounter" rate. The state attorney general said fluoride treatments could be performed by dental assistants, but as part of a patient's six-month checkup.
More recently, Cornell Scott Hill Health Corp. (CSH) settled with the U.S. Department of Justice (DOJ) and the Connecticut Attorney General's Office for similar alleged dental Medicaid fraud. Documents filed for the 2019 tax year showed that CSH CEO Michael Hill received a total annual compensation of $512,551.
Also in 2021, Borrego Community Health Foundation, a nonprofit, tax-exempt FQHC operating medical and dental clinics in Southern California, signed an agreement with the state to discontinue treatments for dental care. The DOJ and U.S. Federal Bureau of Investigation had previously announced they were investigating the FQHC, and California's Medicaid program temporarily suspended payments to Borrego.
Before the investigation, a plethora of executives at Borrego received compensations totaling more than half a million dollars. Public records for the 2018 tax year showed CEO Bruce Hebets received a total compensation of $1,892,548. Chief Dental Officer Timothy Martinez generated $458,134 in his annual package.
While the compensation of some of these executives is eye-catching, the vast majority of dental FQHCs struggle to offer competitive compensation to providers and administrators. These public clinics typically operate ethically and lawfully and place patient care at the forefront with their limited resources. Staff find ways to work on restricted budgets, and by and large, employee healthcare providers are not the violators.
But as the public records show, the work at FQHCs can be highly lucrative for those at the top of a handful of public sector dental clinics. Outlandish compensation for directors and officers depletes funds for treating the disadvantaged and cheats taxpayers. Oversight and enforcement must include civil and criminal penalties for those in senior leadership at FQHCs who violate statutes.
Dr. Michael W. Davis practices general dentistry in Santa Fe, NM. He also provides attorney clients with legal expert witness work and consultation. Davis also currently chairs the Santa Fe District Dental Society Peer Review Committee. He can be reached at MWDavisDDS@Comcast.net or SmilesofSantaFe.com.
The comments and observations expressed herein do not necessarily reflect the opinions of DrBicuspid.com, nor should they be construed as an endorsement or admonishment of any particular idea, vendor, or organization.