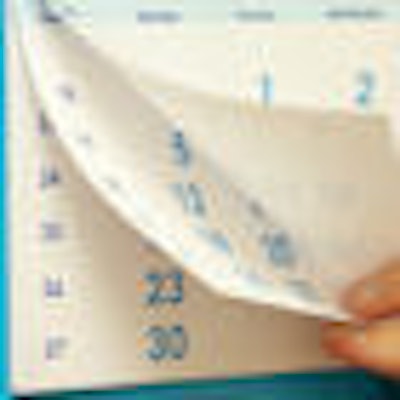 In an exclusive video on the future of dentistry posted on DrBicuspid.com earlier this year, Dr. Gordon Christensen states that it is "difficult to prognosticate about what's going to happen in the future."
Boy, is he right. Twelve months ago, who could have predicted these developments:
And these are just the tip of the iceberg. Here's a look back at some of the top stories of 2012, as reported on DrBicuspid.com.
Economy still a factor
No surprise that the economy continues to be an issue and that U.S. dentists' net incomes have declined in recent years as a result.
For example, demand for cosmetic dentistry services has declined 13% since 2007, primarily due to the ongoing recession and its effects on the spending behaviors of patients, according to a survey by the American Academy of Cosmetic Dentistry (AACD) conducted in October and November 2011.
At the same time, though, revenues generated from crown and bridge work and orthodontics either increased or stayed the same year over year, according to the AACD. In fact, the survey found that orthodontics showed the largest positive shift since the last AACD survey (conducted in 2007), while veneers have dropped the most. The dental implant market also has been hard-hit by the economic downturn, as reflected by the 2012 financial results of the major implant manufacturers (Straumann, Nobel Biocare, and Dentsply).
However, while the downturn has certainly contributed to a decline in dentists' incomes, what is surprising is that the decline actually began in 2005, more than two years before the recession started, according to an analysis by the ADA. Real net income of independent general practitioners (GPs) grew from $170,834 in 1996 to $217,850 in 2005, researchers from the ADA's Health Policy Resources Center (HPRC) found. But in 2006 the trend began to reverse, and by 2009 GPs' real net income had dropped to $192,680 -- roughly the same level as in 1998.
"If the decrease is primarily cyclical, then net income levels should be expected to recover as the economy recovers," the study authors wrote. "If the change is primarily for the long term, however, the consequences could be far reaching."
"We are seeing many practices that are showing slight improvement in the second half of 2012."
— Roger Levin, DDS, CEO of Levin Group
Other factors also have played a part, according to a related panel session at the 2012 ADA Annual Session. These include the loss of dental insurance, reimbursements cuts by some insurance companies, the mushrooming number of dental graduates, and improvements in oral health, which has resulted in less demand for traditional services such as restorations.
Looking ahead, however, the news isn't all bad. David Goodman, CPA, of the Academy of Dental Certified Public Accountants, sees a brighter future in 2013 for U.S. dentistry. Declining enrollment in dental schools could ultimately mean fewer dentists competing in the marketplace, he noted. In addition, more GPs are doing orthodontic and endodontic procedures, creating new revenue streams. And the recession has made many dentists more cost-conscious, according to Goodman -- a practice he doesn't see changing any time soon.
Roger Levin, DDS, CEO of Levin Group, also is optimistic about the coming year.
"We are seeing many practices that are showing slight improvement in the second half of 2012," he told DrBicuspid.com. "Although there is some uncertainty about tax changes and healthcare as we enter 2013, the U.S. economy appears to be slowly recovering from the recession. In many parts of the country, though, it is a very tenuous recovery that is still restraining practice production from returning to where things were four years ago. Many doctors are searching for ways to get back to prerecession production levels and are highly focused on getting the correct proven systems in place to manage and market their practice. I see this strategy beginning to pay off for those doctors who maintained or installed proven business systems into the practice."
Government stirs the pot
Even so, legislative changes at the state and federal levels will bring new challenges to dentistry in 2013 and beyond. Foremost among these is the Patient Protection and Affordable Care Act (ACA). Among other things, the ACA requires insurers to offer dental care for children, funds national public education programs on preventing oral diseases, and asks for additional funding to expand access to care for people who live in an area with a shortage of dental care providers.
In March, the U.S. Department of Health and Human Services issued its rules governing the ACA's state-based insurance exchanges. While states such as California and Kansas are working to establish insurance exchanges by the 2014 deadline, others -- including New Jersey and Arizona -- are balking, opting instead to let the federal government handle it.
Also looming is the medical device excise tax -- established to help support the ACA and its various programs -- which will take effect January 1. The ADA and a coalition of other dental groups had asked the secretary of the treasury to determine that the excise tax does not apply to dental devices manufactured by dental laboratories and orthodontic manufacturers, but the final regulations do not create a special rule for dental devices.
"Like any cost increase that a dentist sees from a supplier or equipment vendor, this is an excise tax on the manufacturers and importers, and somebody has to pay for it," Dean Drevlow of Dental Dynamix told DrBicuspid.com. "The cost typically gets passed on to the end purchaser, so dental practitioners will likely be forced to raise their fees."
Meanwhile, some U.S. legislators are so concerned with the country's oral health crisis that they took it upon themselves this year to introduce the Comprehensive Dental Reform Act of 2012, which would extend comprehensive dental coverage to millions of Medicare, Medicaid, and U.S. Department of Veterans Affairs beneficiaries who lack it; increase spending to expand oral health services in communities that currently go without them; and boost oral health literacy and research programs.
The legislation would also increase funding for safety net clinics serving the poor, create an emergency care coordination grants program aimed at guiding patients with urgent dental needs to clinics rather than emergency rooms, and create an incentive to states to make Medicaid participation more attractive to oral health providers by boosting the federal government's contribution by 10%.
Corporate dentistry: Good or bad?
In a related development, one of the biggest stories of 2012 was the rise of corporate dentistry -- aka dental service/maintenance organizations (DSOs/DMOs) -- and the related legal, legislative, and media scrutiny these organizations have come under.
Top 10 stories of 2012
Top stories based on total page views (January 1-December 21):
At issue is the fact that a growing number of private equity firms are investing in these companies, which some say shifts the focus from patient care to company profits. Accusations of high-pressure sales tactics, production quotas, and bonuses for making production targets abound, as do consumer complaints of overtreatment and mistreatment.
The issue has gained particular notoriety in Texas, where investigations found that dental chains and orthodontists across the state had bilked the Medicaid system out of tens of millions of dollars. As a result, state lawmakers began a major crackdown on dental Medicaid fraud and formed a task force to help deal with the problem.
Among those accused by the state of Medicaid overbilling was All Smiles Dental Center, a chain of 51 offices in Texas. In March, All Smiles agreed to pay $1.2 million as part of a settlement agreement related to charges of Medicaid fraud; three months later the company and its founder, Richard Malouf, DDS, filed for bankruptcy. Shortly thereafter, the state attorney general sued All Smiles and its owners, accusing them of costing taxpayers millions of dollars for unnecessary orthodontic work on Medicaid patients.
Yet with questions mounting over the ethics of some of these DSOs and the potential effect of this business model on the future of dentistry, a presentation at the 2012 American Academy of Pediatric Dentistry annual meeting painted a very different picture of what it can be like to work at one of these practices.
And a report by a well-regarded economist that was paid for by the dental chain Kool Smiles found that DSOs provide lower-cost treatment to underserved populations. It also eschewed criticisms about Medicaid fraud and unnecessary procedures that have been leveled against many DSOs.
Even so, after one of the biggest DSOs -- Church Street Management, which manages 63 dental centers under various "Smiles" brands in 21 U.S. states -- claimed earlier this year that it is mending its ways following bankruptcy, the company's Small Smiles chain now finds itself at the center of yet more controversy.
Workforce issues, access to care
While some contend that dental chains can help ease the access-to-care crisis by offering lower-cost services to individuals who may not have dental insurance or other resources, others believe new workforce models -- from dental therapists to expanded function hygienists and assistants -- offer a better alternative to bridging the gap at a time when more individuals are turning up in hospital emergency rooms seeking dental care than ever before.
The debate over the viability of dental therapists has been going on for many years, and 2012 was no different, although more studies are attempting to provide quantitative evidence for and against this workforce model.
For example, dental therapists can significantly increase access to care in school-based programs and reduce patient costs, according to three studies in the Journal of Dental Education. However, the researchers also found that dental therapists would provide only modest savings at federally qualified health centers and would not increase private practices' net revenues.
Meanwhile, a literature review presented at the 2012 American Public Health Association annual meeting found that dental therapists provide quality care while improving access to care in a cost-effective way. And an extensive review of the literature documenting care provided by dental therapists worldwide indicated that these caregivers offer safe, effective dental care, especially for children, according to a report from the W.K. Kellogg Foundation.
However, a report released this year by the ADA called into question the economic feasibility of dental therapists by examining the use of dental health aide therapists, dental therapists, and advanced dental hygiene practitioners in five states that are considering adopting one of these models: Connecticut, Kansas, Maine, New Hampshire, and Washington.
But in an interesting turn of events, the Washington State Dental Association announced that it is throwing its weight behind an alternative midlevel provider (MLP) proposal, acknowledging that "increasing momentum" and support for MLPs could make it difficult to defeat legislation supporting unsupervised MLPs.
Some states are addressing the access-to-care issue by expanding the role of dental hygienists and assistants. In Maine, for example, new legislation allows independent practice dental hygienists to take a broad range of x-rays in federally designated underserved areas of the state as part of a new pilot project.
In Kansas, a law signed in May allows level III hygienists to work in prisons and indigent health care clinics, as well as with low-income seniors and the developmentally disabled, and to identify and remove decay and place a temporary filling, adjust dentures and check for sore spots, extract loose baby teeth, and use local dental anesthesia within limits. And legislation proposed in Iowa would allow dental assistants and hygienists to perform five additional functions, including placing amalgam and composite fillings and stainless steel crowns.
Meanwhile, Tennessee is considering proposals to allow certified hygienists to provide some treatment without direct supervision; Illinois may allow hygienists to work for healthcare facilities and perform hygiene services without patients first being examined by a dentist; and a bill in New Jersey would allow certified hygienists to expand their practices under the supervision of a dentist to schools, clinics, nursing homes, hospitals, prisons, and facilities that treat persons with developmental disabilities.