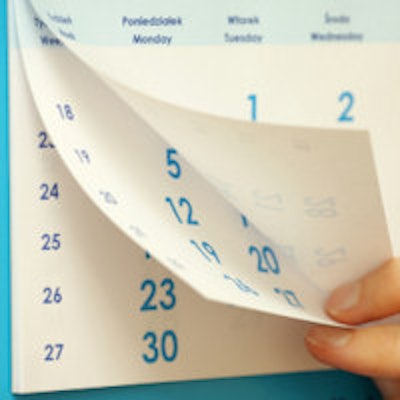 As 2013 draws to a close, DrBicuspid.com takes a look back at the year in our two-part year in review of the top 10 stories. From teeth whitening to midlevel providers to new products to the Patient Protection and Affordable Care Act, there was no shortage of big stories in dentistry during the year. These are the stories that mattered most to you in 2013, as measured by page views.
Here are the top stories six through 10. Tomorrow, we'll run the top five stories of 2013.
Top 10 stories of 2013
ACOG: Dental x-rays, prophies OK during pregnancy by Kathy Kincade
August 1, 2013 -- Dental x-rays and dental hygiene appointments are safe for pregnant women, according to new recommendations issued by the American College of Obstetricians and Gynecologists (ACOG).

In fact, the ACOG is advising all obstetricians and gynecologists to perform routine oral health assessments at the first prenatal visit and encourage their patients to see a dentist during pregnancy, according to the Committee on Health Care for Underserved Women, which issued the guidelines.

Les Misérables and Anne Hathaway's teeth by Daniel Demers
February 21, 2013 -- "I would have pulled out my teeth to play Fantine," actress Anne Hathaway said in a recent interview. "It was such a dream, and I can't believe I'm the girl who got to play her."

Hathaway was referring to her role as Fantine in the motion picture "Les Misérables," based upon the book of the same name by French author Victor Hugo. Published in 1862, the story has been adapted to the big screen four times (1935, 1958, 1998, and 2012). The novel -- an indictment of post-Napoleonic French society circa 1830 -- is considered one of the greatest of the 19th century. The well-respected American author Upton Sinclair called it the sixth greatest literary work of all time.

What caused Calif. man's death during third-molar surgery? by Rob Goszkowski
April 15, 2013 -- Authorities are looking into a San Diego man's death during what was considered a routine third-molar extraction procedure.

On March 21, Marek Lapinski, 24, underwent surgery in the care of Steven Paul, DDS, an oral and maxillofacial surgeon in Temecula, CA. In the midst of the surgery, Lapinski began to cough, was administered propofol, and subsequently went into cardiac arrest, according to news reports. Paramedics were called, they attempted to intubate him, and he was transported to a nearby hospital and placed in intensive care. He died on March 24.

Published evidence supports partial caries removal by Rob Goszkowski
March 27, 2013 -- The authors of a new critical appraisal in the Journal of Esthetic and Restorative Dentistry (March 19, 2013) trace their perspective on treating caries back to the beginning of modern dentistry, even before the influences of G.V. Black.

According to Black, all dentin where decay is suspected should be removed, regardless of the risk to the pulp. But in the 19th century, James Tomes contended that it is better to leave some carious dentin in place rather than risk exposing the pulp -- and the authors of the new critical appraisal agree.

Will ACA prompt some patients to drop dental insurance? by Donna Domino
January 23, 2013 -- While 5.3 million children will gain dental coverage in 2014 thanks to the Patient Protection and Affordable Care Act (ACA), up to 11 million adults could drop their own dental coverage when their children are covered separately, according to the National Association of Dental Plans. And parents who switch to dental coverage under their medical insurance may have to change dentists.