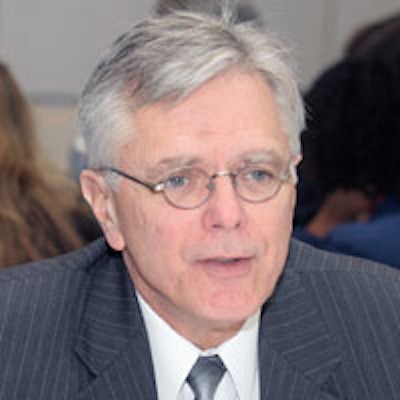 DentaQuest is working to help insurers partner with dentists in order to meet the U.S. Patient Protection and Affordable Care Act's (ACA) mandate for improved health outcomes in the Medicaid and Medicare programs.
"The Affordable Care Act puts tremendous pressure on organizations to use data and analytics to drive the way we engage with patients and providers," said Robert Compton, DDS, DentaQuest Institute executive director, in a presentation June 12 at the Institute2013 Exchange Conference. "However, this new focus on measurement allows us to partner with providers, engage in true dental management, and produce the best outcome for patients."
Both the ACA and the Children's Health Insurance Program (CHIP) program mandate that insurers and healthcare providers have quality improvement programs, which will be measured and reported to the public, according to Dr. Compton. Insurers are also coping with the changing ways that states are defining the new law's mandatory pediatric coverage benefit, he told DrBicuspid.com.
"It changes almost daily because each state can define what is part of the essential health benefits and what benefits they include," he said, noting that many states have simply decided to include whatever is in their CHIP program. "Every month we have a different state doing something different. Especially with the ACA coming online and having an essential health benefit for children, a lot of managed care organizations don't know what to do with the dental aspect."
Dental Quality Alliance
During the conference, Dr. Compton provided a primer on how the federal government will assess care quality, costs, and outcomes under the ACA.
"Dentists will be measured on their quality, as will health plans," he said. "The federal government has made it very clear that they'll report these things to the public."
"It's a win, win, win, win situation."
— Robert Compton, DDS, DentaQuest executive director
All states will have databases that include all insurance claims and provider data. These databases will be used by the federal government to measure if they have improved health outcomes. In preparation for that, the U.S. Centers for Medicare and Medicaid Services asked the ADA to form a Dental Quality Alliance (DQA) to create performance measures for dentistry.
"These things will be reported to the public so they can make informed decisions about where to get their care and which health plan to join," said Dr. Compton, who is a member of the DQA. "So ultimately, dentists should be concerned about what is being measured."
The alliance so far comprises 29 organizations, including government agencies, insurers, the American Medical Association, dental associations, and consumer advocates. The effort to develop measures is ongoing, but the first set of seven pediatric measures has been decided, according to Dr. Compton.
All measures must be a consensus of the 29 groups, he noted. "So it's the profession itself saying, 'These are the appropriate things to measure,' " he said.
One of the measures involves ensuring that high-risk children get dental sealants on their first molars, which Dr. Compton says can reduce caries by 80% in the first year and 60% nine years after sealants are placed.
"There's evidence showing that process of care leads to improved health outcomes so that's something that's important to measure," he said.
Financial incentives
DentaQuest has created a program in which member dentists are sent lists of the children who will be getting their first molars and would most benefit from dental sealants.
"We say, 'Here are the kids in your practice who will be turning 6 or 7 years old this year. Watch for them and evaluate them for dental sealants, and place them as appropriate,' " Dr. Compton said.
Then every six months, DentaQuest sends out a list of kids in that category who went to the practice to see whether they got sealants.
"You would think that all dentists would be placing sealants because it's the most effective way of preventing decay where the vast majority of it occurs, but they're not," Dr. Compton noted, adding that DentaQuest research found significant variability among dentists with regard to placing sealants.
To encourage compliance, DentaQuest offers a pay-for-performance incentive that gives dentists a bonus if they place sealants in young children. A similar program pays bonuses to dentists who give fluoride treatments to high-risk children, which includes children who've had fillings in the last three years.
DentaQuest's data analytics show that financial incentives have significantly increased the number of children who received sealants or fluoride in a timely manner.
Impact of sealant program: Placement rates
"It's a win, win, win, win situation," Dr. Compton said. "We're working with dentists to help get higher-risk children the preventive care they need, and helping dentists look at their performance so they perform better. We're also lowering the cost of care because these children end up having less disease. So it works out well for everybody, and it allows us to partner with dentists for the same goals: We want healthier children, and we want them to get preventive care."
Other preventive programs
DentaQuest has a similar program for adults with periodontal disease, using the American Association of Periodontology's recommendation for deep cleanings every six months. Research showed that 49% of adults with periodontal disease were getting recommended regular cleanings, but the number rose to 64% when the company offered financial incentives to dentists.
"We set some goals, and those who achieved them got a bonus," Dr. Compton said.
Another preventive program involved trying to lower the number of children who needed to be hospitalized for surgery when they needed extensive dental treatment, which often costs more than $10,000.
"It's very expensive to take kids into the operating room," Dr. Compton said, noting that there have been children as young as 2 years old who needed four or five root canals.
One children's hospital reduced the incidence of young children who needed dental surgery by 46% after working more closely with parents, he said.
"It was accomplished by intercepting parents early and explaining how the child got oral bacteria and what they can do to stop it," Dr. Compton explained.
He noted that many parents put children to bed with a bottle of milk or give them fruit juice in sippy cups.
"That's very harmful to a child's teeth, so by telling them these things and setting goals, we find we can significantly reduce the number of children whose disease gets so bad we have to take them to an operating room" Dr. Compton said. "It also reduces the amount of decay they will later have."
Research shows one state spent $4.4 million to cover 4-year-old children in 2011 on a Medicaid program that DentaQuest administers.
Early childhood caries is rampant among poor minority children, but it occurs in affluent populations as well, Dr. Compton pointed out.
"Some parents just are not aware of how all this happens," he said. "I'm a dentist, and all dentists want to prevent disease rather than treat disease."