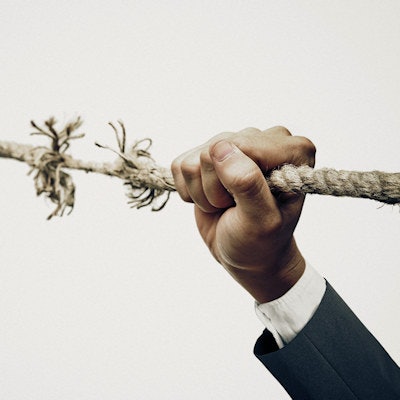 The COVID-19 pandemic may lead to about one-fifth of Medicaid providers in private practice disenrolling from the U.S. program that serves patients with limited income by the end of 2020, according to new data from the ADA's Health Policy Institute (HPI).
About 6% of private dental practices opted out of the program during the pandemic. Of those who haven't, 16% are considering disenrolling by the end of 2020, and another 21% aren't sure. HPI's survey included responses from approximately 4,000 dentists.
"The pandemic could potentially lead to reductions in dental safety net capacity," said Chelsea Fosse, a senior health policy analyst at HPI, during a webinar on September 1.
A strained net
The safety net includes providers, payment programs, and facilities that deliver clinical, nonclinical, and support services, including Medicaid and the Children's Health Insurance Program (CHIP), federally qualified health centers (FQHCs), school-based health centers, and academic dental institutions.
Threatening this safety net is troublesome: First, fewer than half of dentists participated in these programs aimed at addressing the oral health needs of underserved and vulnerable populations. It also potentially jeopardizes the strides that have been made to tighten gaps in access to dental care, as well as current efforts. Recently, the U.S. House of Representatives introduced legislation that would improve health disparities in minority and underserved communities in the U.S.
Tough gets tougher
About 76% of dentists who have left the program or are thinking about leaving reported that Medicaid patients accounted for approximately one-fourth or less of their patient populations, according to the survey results.
A nice chunk of the patient load at Burleigh Dental in Milwaukee came from Medicaid patients, but Monica Hebl, DDS, who was one of the webinar's panelists, had to make the difficult decision to abandon the program anyway. She spent more than three decades helping underserved populations and hoped to eventually get back to them, but she couldn't make it work with the current obstacles posed by the pandemic.
"Medicaid works through scheduling and working more efficiently, and we were willing to do that, but with the restrictions on how you can schedule and social distancing in the reception area and decreased time in between, it just became untenable," she said.
With reimbursement rates in Wisconsin at 27¢ for every $1, "the no-show rate can't accommodate for that anymore," Dr. Hebl added.
New Jersey Department of Health Dental Director Darwin Hayes, DDS, agreed, noting that overscheduling is key to surviving in public health centers, since many experience high rates of patients not showing up for appointments. Therefore, many centers "double, triple, quadruple book" single appointment times, he said.
Now, that doesn't work due to capacity limits.
"What if they all show up at the 10 o'clock appointment, or what if no one shows up for the 10 o'clock appointment?" Dr. Hayes asked. "Many in New Jersey are trying to balance this, but it's going to be an ongoing challenge, especially as we go from emergency to more routine treatments."
Private vs. public
About 98% of private dental practices reported being open and about 48% were operating at full capacity as of the week of August 10, a figure that hasn't moved for several weeks. Dentists in public health settings remain far away from business as usual. About 17% in public health settings reported they were open and operating as normal, while about 73% were open and operating with lower patient volumes, during that same time period.
Some factors affecting volume at federal public health centers are the patient populations and personal protective equipment (PPE) supplies. Many centers face stringent PPE requirements and the patients seen most in these settings, including nonwhites, immigrants, people with comorbidities, and those with disabilities, are at increased risk of SARS-CoV-2 infection.
Some states mandate that federally qualified health centers have two-week supplies of PPE to operate, Dr. Hayes said.
"Then, you have to certify that [supply], and if not, you are probably not going to be seeing patients and that has to be communicated to the public," Dr. Hayes said.
Workforce issues are also challenging in the public health sector.
"If you don't have enough PPE to have a full staff, you're not having a full staff," Dr. Hayes said.
Not giving up
With these challenges, patients will have a difficult time finding and maintaining their "dental homes," Dr. Hebl said.
Though the transition has been tough, she's not forgetting those underserved patients. Realizing that many of her Medicaid patients had dual coverage, she disenrolled with the intention of eventually setting up a sliding-scale fee for patients. Medicaid providers can't offer that option. She is considering whether implementing this type of option can get her back to providing care to those who need it most.
"Some of the most satisfying days are when you were teaching families how to have a healthy home and treating disabled patients and making them not afraid to come to the dentist," she said. "I miss those days."